My library of sewing, embroidery, and crafting books is overflowing the shelves. At this point it takes a special book offering unique patterns and tips to gain a place in my library. The newest embellished wardrobe pattern book by Natalie Chanin is one of those special books that is a joy to add to my collection.
Every year I select a small project to make for friends and family for holiday gifts. The embroidery and beading techniques taught in Alabama Studio Sewing + Design: A Guide to Hand-Sewing an Alabama Chanin Wardrobe will help me make this year's gifts that much more special.
About the Author
Natalie Chanin is a maverick in the fashion industry. Instead of drawing a line between the home seamstress and high end fashion, Chanin welcomes us in. She shares her patterns and gives us step by step instruction on producing beautifully crafted and embellished clothing and accessories.
She produces her designs under the line, Alabama Chanin.  Her studio is located in her hometown of Florence, Alabama, where she hires local seamstresses and pays them a living wage to produce the beautiful custom designs – many of them selling for thousands of dollars. In this book, she is sharing some of those patterns and designs.
Book Contents
From Alabama Chanin:
The third installment from our Alabama Studio Series presents techniques used to create the Alabama Chanin line of organic cotton clothing. Included in this encyclopedic compilation are dresses, skirts, tops, a wrap, a poncho, a bolero a hat in fingerless gloves. Each piece is first featured in its basic form, then with embellishments, and is then mixed, matched, and layered to showcase its stunning versatility.
The content of the book is laid out in a tradition table of contents and through an index that uses a selection of images, offering a more detailed, visual way to catalogue the projects.
Chapter 1: The Basics – Materials + Tool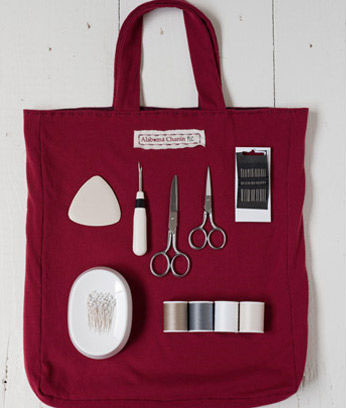 This chapter outlines the fabrics, threads, beads and other embellishment and sewing tools you will need to complete the projects.
Chapter 2: Stencils + Stenciling
In chapter two you will learn how to make and use stencils to embellish clothing and household items.
Chapter 3: Basic Stitches
Chapter three instructs on the basic stitches that are used to construct and embellish the garments in the Alabama Chanin Wardrobe.
Chapter 4: Basic Garments + Accessories
In chapter four are the instructions for constructing all of the garments and accessories for an Alabama Chanin wardrobe.
Chapter 5: Embellishing with Beads, Sequins + Embroidery
This chapter gives instructions for using beads, sequins and decorative embroidery stitches to embellish clothes and accessories. These techniques can be used on any garment or household item, not just those included in the book.
Chapter 6: Quilting + Reverse Applique
Chapter six teaches the quilting and reverse applique techniques used to embellish the Alabama Chanin wardrobe.
Chapter 7: Applique
In this chapter is the step by step instruction for the variety of applique techniques used in finishing the clothing pieces for the wardrobe.
Chapter 8: Fabrics + Fabric Maps
In chapter eight you will learn what types of fabrics are appropriate to use for each project. Natalie Chanin promotes sustainability and garments crafted by Alabama Chanin constructed with new, recycled and organic materials.
Chapter 9: An Alabama Chanin Wardrobe
This chapter pulls it all together. The constructed garments are shown in their completed and embellished form.
Techniques Taught

The Alabama Studio Sewing + Design: A Guide to Hand-Sewing an Alabama Chanin Wardrobe offers patterns and instructions for skirts, tops, dresses, a bolero, accessories and other pieces that when embellished and layered can be used to create a stunning wardrobe.
From basic patterns to intricate embellishments, this book will take you step-by-step through the creation of each piece. You will learn sewing, beading, embroidery and quilting techniques. The instructions are clear and concise and are supported with detailed images.
Other Books from the Author
Alabama Stitch Book: Projects and Stories Celebrating Hand-Sewing, Quilting and Embroidery for Contemporary Sustainable Style 
After living in New York and Vienna for over 20 years, Natalie Chanin returned home to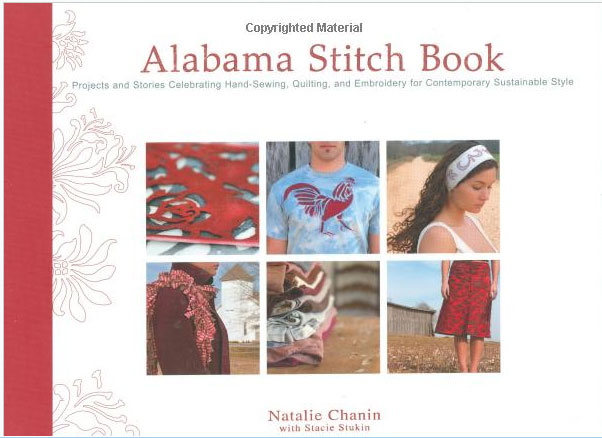 Florence, Alabama to create exquisite high fashion designs using traditional needlework techniques she learned as a child.
Her first book includes 20 projects, from corsets and tee shirts to a journal cover, tablecloth, and sampler quilt. Patterns, stencils and guides are included. With a common multi-piece clothing pattern costing as much as $15, this book is a bargain.
Alabama Studio Style: More Projects, Recipes, & Stories Celebrating Sustainable Fashion & Living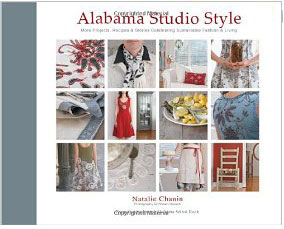 In her second book, Natalie Chanin picks up where she left off in her first, adding stories and recipes to expand her unique designs into a lifestyle. We are once again presented with 20 projects that range from clothing to housewares. As an added treat, Chanin includes recipes for three party menus.
What Other Buyers are Saying
I'm not the only seamstress to express enthusiasm for Alabama Studio Sewing + Design: A Guide to Hand-Sewing an Alabama Chanin Wardrobe. To be honest, the clothing styles aren't right for my body type, but the beauty of this book is the other techniques can apply to anything you sew at home. That step-by-step instruction alone is worth the cost of this book.
You don't have to take my word for it, though. From Amazon reviews:
This is a truly outstanding book from cover to cover for a few reasons:
1.) The stitch charts are very easy to follow.
2.) The samples are presented in LARGE, close up photographs
3.) The garments included are very basic and can be made by hand with one of the easiest, green friendly, most forgiving fabrics out there- cotton jersey.
4) The instructions are very good. Even a beginner could make the tank, tee, skirt, bolero, wrap, or fingerless gloves by hand with a minimum of notions except for quality fabric and thread. Those particular items would probably not give a beginner a fit over fitting either. You'll need more tools for stenciling or beading, but even they are pretty simple to acquire.
5.) The book's index includes photos for fast referencing
6.) The embellishments shown are beautiful and accessible!You can go as elaborate (full beading and applique on a long dress) or simple (adding a basic ruffle to a tank) as you want. This is truly "luxe casual" at its best.
Then there is this one:
If you are new to Alabama Chanin, this book is a wonderful primer for the sewer who wants to elevate their work to an art form. Natalie Chanin takes hand sewing to a whole new level or maybe back to what it was meant to be. She makes sewing a soul satisfying, filled with love, creative process. You can't help but be inspired. I've been going through the book for the last hour. There are already post-its throughout the book, the patterns are on the table and I can't wait to get started on my first look.
Are you ready to buy the book?
If you are ready to add Alabama Studio Sewing + Design to your personal library it is very reasonably priced at Amazon.com.  If you aren't quite sure, follow the link and read more of the reviews. Almost all are 5 star and they are well earned.