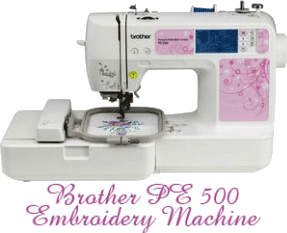 If you haven't entered the world of embroidery, now is the time. The Brother PE 500 Embroidery Machine is Brother's most affordable embroidery-only machine ever, and a great place to begin. You can purchase this Brother PE 500 embroidery machine online. It is a cheap embroidery machine only in price, definitely not in features. Other embroidery machine prices can vary, all the way up to $12,000.00 and beyond. So before jumping in with both feet, this Brother embroidery machine would definitely be a place to get your feet wet. It will be a great addition to your standard sewing machine.  CLICK HERE TO CHECK PRICE.
(Click Ahead!)

• Quick Stats for Brother PE 500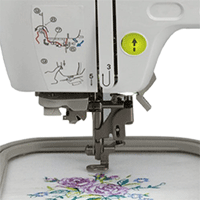 • READY SET GO!
• Brother PE 500 Advantage
• Notable Features
• Reviewer Feedback
• Videos
• Manuals and Warranty
• Brother PE 500 Extras
• Products
___________________________________________________
Quick Stats for Brother PE 500 (Back To Top)
| | |
| --- | --- |
| Price | Check Price Here =======>  |
| Embroidery: | Yes –  This is a stand-alone Embroidery Machine |
| Embroidery Stitches | 70 built-in embroidery designs and 5  built-in embroidery fonts and 120 frame pattern combinations.  You can embroider using the built-in embroidery patterns,  alphabet patterns,  framed decorations and also the optional embroidery cards as well as downloadable embroidery designs |
| Monogramming Fonts | 5 embroidery lettering fonts and characters |
| Frame Patterns | 10 shapes x 12 stitch patterns – 120 different combinations |
| Media Recognition | Embroidery Card |
| Bobbin: | Quick Set Bobbin |
| Bobbin Type: | Quick Set™ Bobbin – one step drop-in bobbin style; start embroidering immediately. |
| Bobbin Winding System: | Easy Bobbin Winding – Adjustable Winding Speed |
| Clear Bobbin Cover: | Yes |
| Display Control Panel | Monochrome, back lit touch screen measures 1.6″ x 3″ for computerized stitch selection. Use keys  to select stitches. |
| Design Memory | Yes – save customized embroidery patterns in machine's memory for future use |
| Compatible Media | Brother Embroidery Card – Purchased Separately |
| Embroidery Data Formats | .pes file format (PE-Design®) Compatible with PE-Design/PED Basic |
| On-Screen Help | Yes – The machine gives you step by step instructions to help you if you get stuck |
| Upper Thread Tension: | Manual |
| Accessory Storage: | Yes |
| Carry Handle: | Yes |
| Light: | Yes – 1 LED |
| Needle Threader: | Yes – Automatic needle threader |
| Thread Cutter | Yes – Automatic: The thread can be cut automatically after embroidering OR Pass the threads through the manual thread cutter to cut them. |
| Snap-on Presser Feet: | Yes – 1  Embroidery foot |
| User Guide & Quick Reference Guide & | Yes – Well-written, easy to understand User Guide |
| Limited Warranty: | 25 year limited warranty |
| Hard Cover | No |
| Dimensions | 10.94″ x 6.89″ x 15.55″ |
| Weight | 18.1 lbs. |
READY SET GO! (Back To Top)
Get ready to fall in love with embroidery. Before you know it, you'll want to embroider everything you can possibly get into that embroidery hoop and onto the machine! It is so much fun. It's fun to put a beautiful design on anything and everything and it's fun to watch the machine create such beautiful projects. I've been embroidering for over 12 years and I am still fascinated when I watch the machine do it's magic.
Many sewers are a little intimidated by today's machines, especially when it comes to embroidery machines. If you love sewing, then you will love learning how to embroidery. I can promise you that it is fun to do, rewarding because of all the projects you can accomplish and you will never tire of it. The more you work at it, the better you will get and the more fun you will have discovering all the fascinating things this little machine can do.
Brother PE 500 Advantage (Back To Top)
One really nice advantage in having a stand alone embroidery machine is that you can embroider on the PE 500 while you sew on your standard sewing machine. I keep all of my machines in a "U" shape format for convenience and so that I can do hand work or straight sewing while my machine embroiders.
Notable Features and Highlights (Back To Top)
Great Features – Some Found on More Expensive Machines
STITCHING FEATURES
Let's take a look at some of the features of this machine. First of all, it's really pretty. We love pretty!
Built In Designs
The machine comes with 70 built in designs and 5 font styles for lettering and monogramming. It is also loaded with 120 frame pattern combinations. And, the stitch selector is on the touch panel and so easy to use. It allows for on-screen editing, including a trial layout function, and the ability to rotate your design 1, 10 or 90 degrees.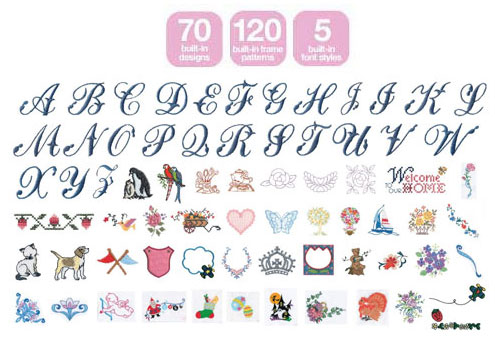 ADDITIONAL FEATURES
Automatic Needle Threader
Another, "I can't live without it" feature of the PE500 if the automatic needle threader. Talk about getting pampered. I don't know how I ever got along without this feature. It saves so much time and frustration and adds to the joy of sewing. No more tweezers or magnifiers. Another time saver!
Tutorials on Board
If you're like me, you need to refresh your memory occasionally about a certain machine feature or function and don't have your machine manual handy. No worries! You can view tutorials on the 2.7"x1.4" Monochrome LCD touch screen display. A great time saver – quick and easy – so convenient. You won't have to waste any time trying to find that manual.
USB Connection
One of the other best parts of this pretty Embroidery machine is that you can connect it directly to your computer and download updates from Brother and even better – you can purchase and download embroidery designs from Brother's

www.iBroidery.com

website. More good news! You can find many websites that offer free designs to download. By the way, you can save these designs to your computer until you are ready to use them.
Fast Bobbin Winder
Once you use the fast bobbin winder you'll never want to be without it again. With just a touch of a button your bobbin will be wound.
No Need To Pull Up Lower Thread
You will be able to begin embroidery immediately without pulling up the lower thread.
TAKE NOTE
The maximum embroidery space is only 4×4. This may work just fine for you. However, it is something that you will want to consider, depending on the type of embroidery you want to do.
 Remember, you will not be able to utilize designs that are any larger than 4×4 unless you have computer software to re-size them.
The machine is limited to the number of designs that can be loaded into the machine's memory. You can save up to 12 patterns or 512 KB of data. Saved patterns will not be erased when the power is turned off and can always be retrieved for embroidery. In order to add more designs to the machine, some will have to be deleted. That is not a problem if you have them loaded on your computer.
DON'T BE DISCOURAGED
My concern for you, especially if  you are new to embroidery, is that you will find these limitations discouraging and decide that embroidery is not for you. However, as long you know the limitations you will know what to expect and be prepared to work within the restrictions of the machine. You can then make the decision to try this reasonably priced machine and decide if purchasing a machine with more features is for you. My suggestion would be for you to purchase the most you can afford, allowing yourself room to grow and providing more features to work with.
Reviewer Feedback: (Back To Top)
After doing my "homework" on this machine, I would think it would be a great place to get started with embroidery at home. Even if you decide you want more in a machine later, you can always use more than one machine. (Ask me how I know!) When I am working on several things, I love to have more than one machine going at a time. Plus, when I go on a trip and want to take my machine along, I like taking a smaller, less expensive machine. Most of the comments I read about the PE 500 were positive and seemed to be just what the purchaser wanted.
LIKES:


"I am a first time user of an embroidery machine. I was able to use it right out of the box.The machine was easy to set up and use .This is a very good for beginners"

"If you want to try your hand at a little bit of machine embroidery without investing tons of money in a machine, the PE500 is the one for you. (Amazon was offering it at 50% off, at $299 a tremendous incentive to buy.)…Having problems? With a push of a button, help screens are easily accessible – right on the machine itself!…"

"I received my Brother PE500 machine on August 17th and was able to get it up and running within a really short time. It is a fantastic machine and I am already making labels for my quilts with it. I also want to do some embroidery on napkins for a house warming present. It is very easy to set up and to learn. I am not sure why I waited so long before buying this machine. It is worth every penny. I am an experienced sewer and quilter but this is the first embroidery machine I have used and I have not been disappointed…."
Dislikes
I read one post from a man who said that he didn't like that the machine did not allow for but a few additional designs to be downloaded onto the machine without first deleting the ones that were already there. In this case you would want to make sure that you save your designs on your computer so that you can use them again. Also, he mentioned that if you happen to download a design that is bigger than 4×4 that it will give you an error message when you try to open it.
This same man said that he had to replace the machine needles because the ones that came with the machine broke easily. This is not common. Just wanted you to be aware in case you have the same problem. Always change your needles after embroidering (or sewing) after about 4 hours of sewing. Many times, your problems are as simple as replacing your machine needle.
Another user said that she liked how easy this embroidery machine is to use. However, she wished it had a larger embroidery area for designs; the 4×4 is rather small, but okay.
Bottom Line
You will definitely want to consider all the facts before purchasing any machine. It will save you time and frustration and in the long run – money. Embroidery is one of the most fascinating hobbies I have ever enjoyed. Keep in mind that there is a never-ending demand for thread, designs, stabilizer and friends who want you to embroider something for them! Always be sure and read through your manual first. I know it's a hassle and it's tempting to just jump in and get started. But, especially with embroidery, there are several things that you will want to read about so that you will know just what all the machine can do and how to prevent any complications from the start. Embroidery machines are incredible machines, but they do require some special attention (like being extremely careful with the embroidery unit).
Rating:
Videos (Back To Top)
Here's a quick video that will show you live what the PE 500 can do:
Watch to see a YouTube Video for instructions about a quick and easy project you can make with your PE 500
This video demonstrates how to wind your bobbin and thread the machine:
Manuals and Warranty (Back To Top)
Manuals
Click the text link or picture to download the manual for the Brother PE-500. Many owners, in their reviews, suggest a new owner should study the manual prior to using this sewing machine. If you have misplaced your manual, please print it out, read, and store it for future use.
Warranty
Click here for warranty terms.
PE 500 Extras (Back To Top)
Accessories
The Following accessories are included in the box:
1.Seam ripper
2.Bobbin (4) (One is on machine)
3.Needle set
4.cleaning brush
5.Spool cap (large)
6.Spool cap (medium) (on machine)
7.Spool cap(small)
8.Spool net
9.Scissors
10.Disc-shaped screw-driver
11.Brother poly #90 bobbin thread
12.Screwdriver
13.Touch pen
14.Embroidery set (medium) H 10 cm X W 10cm (H 4 inches X W 4 Inches)
15.Dust cover
16.USB cable
17.Operation manual
18.Quick reference guide
19.Accessory bag
1 Included Presser Foot
Embroidery foot "Q" (on machine)
Products:(Back To Top)
Other Products You Might Be Interested In:
The SE 400 is Brother's very popular sewing and embroidery machine combo. It includes the same 70 embroidery stitches as the PE 500, as well as 67 additional  sewing stitches for sewing and mending, crafting and more. Read our full review here for the Brother SE400 then head over to Amazon.com to take a look at what others are saying about this machine.
The PE770 is Brother's computerized  embroidery-only machine with USB memory-stick capability. It includes 136 built-in embroidery stitches and a 5 by 7 inch embroidery area. Read our review for the PE770 here and check out buyer reviews at Amazon.com.
Helpful Sewing Notions Used in Embroidery
Cut Away – Machine Embroidery Stabilizer Backing 100 Precut Sheets- Medium Weight 2.5oz. – 8″x8″ – Fits 4×4 Hoops
Stabilizer – Stabilizing is one of the most frustrating parts of embroidery. It can actually "make or break" your project. It won't take long to learn and I'll be here to help you. The best place to start is with the precut cut away. It is a stabilizer that works with the majority of projects.
40 Large Spools Embroidery Machine Thread for Brother With Thread Locking Spool
A variety of thread colors – (I just buy a few shades of each color.) You don't have to have every shade available. I also don't usually follow the exact color chart in a design. These projects are supposed to be fun. You don't have to run buy another shade of red when you don't have just the one mentioned in the design layout. I don't think I've ever used all the threads listed. It gets expensive. Besides, I think the color charts are to help you get a great visual of the design and and to be yourself and use what colors you like.
A Variety of Scissors
Listed below are a few of my favorites. They all serve different purposes in embroidery:

Havel's Ulti-Mates Angled Machine Embroidery Scissors
These funny looking scissors make it so easy to reach over the embroidery hoop and cut your threads. When my son first saw them he said "I didn't do this!"
Gingher 01-005273 Curved Embroidery Scissors, 4-Inch

These Gingher curved embroidery scissors will help you cut away your stabilizer without cutting into your project.
Embroidery Scissors, Curved Blades – Another pair of scissors that will help you cut those little "eyelash" thread tails close to the design.