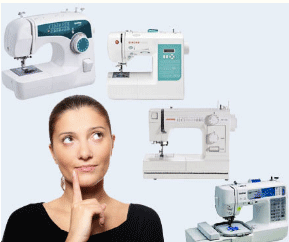 I'll never forget buying my first sewing machine. It was a gift from my mother and it was almost my age. I was in college and wanted to make my own clothes to help out with expenses. I didn't care how old it was, it was beautiful! I made some wonderful clothes and gifts on that machine spanning over 25 years. My Singer was 45 years old when it went into retirement. My new machine won't have to last that long!
If you're searching for your first sewing machine and feeling a little overwhelmed or confused with all the choices, you're not alone! You've also come to the right place. First, let's clear up a little something. Just because you are a beginner buying your first machine doesn't mean you have to do without fancy decorative stitches and sophisticated features. Many affordable machines go well beyond what most of us would consider basic. This is a good thing. It means your first sewing machine will probably last you for many years.Are you worried about paying for features you don't think you will need for a while? Don't worry. There are many sophisticated sewing machines with price tags well below what you might expect to pay. Again, this is a good thing. If your budget allows, buy for the future. Sewing machines are still one of those appliances made to last.
Let's take a closer look at the process of choosing a sewing machine for a beginner :
How will you use your machine?
First decide how you want to use your sewing machine. What type of sewing do you plan to do? This will likely dictate the type of machine you will need. Also keep in mind that sewing machines for beginners doesn't necessarily mean basic sewing machines. A basic sewing machine has minimal functionality and few stitch selections and is suitable for those simple sewing projects.

If you are interested only in hemming, mending, occasional sewing or teaching a child to sew, you may be a good candidate for a basic machine. You may want to consider Brother's LS 2125i, Brother's XL2600i,  Janome's Magnolia 7318 or even Juki's HZL27Z.


If you plan to use your machine for clothing construction and crafting, you will probably need something beyond the basic sewing machine with additional functions and stitch selections such as stretch, overcast and decorative. Take a look at Singer 7258 Stylist, Janome Magnolia 7330, or Brother's very popular CS 6000i.  If you're feeling especially inspired – and daring -head over and check out the Project Runway PC-420 by Brother.


If you are interested in home decor sewing, you are a candidate for a heavy duty machine suitable for working with upholstery-weight fabrics. A good choice would be the Singer 4411 Heavy Duty or Janome HD1000 Heavy Duty.


If you are interested in machine quilting or machine embroidery, you will probably be looking for a sophisticated specialty sewing machine.
Features
Another way to help narrow down your search is to compare features. You may use a chart like the one we have on our sewing machine comparison page or make one of your own. This is a great way to visualize how the sewing machines you are looking at differ from one another. Items you will want to include on your chart are:
Is the machine computerized or non-computerized? The difference is a more matter of preference. Would you rather manually turn knobs and levers to select stitches and functions or would you rather the convenience of electronic push-button controls? Many beginners can be intimidated by computerized sewing machines but don't let that hinder you, there are just as many who love them.
Which settings are automatic and which are manual? Automatic tension and automatic pressure can be very fickle. Although many machines allow you to override automatic settings and adjust them yourself, as your sewing skills increase you may find it more useful to be able to manually adjust them.
Stitch selection and variety – Many sewing machines offer a number of decorative stitches you may not feel you need for a first machine. These don't always come with a higher price tag, so don't mark these off your list right away if you are still in that basic machine mindset. If you aren't really paying more for them, these extra stitches are very nice to have. It is a bonus if the stitches are also easy to select and change.
Stitch width and length – Adjustable stitch width and length are important for just about every sewing project -from making buttonholes to machine basting stitches.
Automatic needle threader – I personally consider this a must-have feature, especially if you have shaky fingers or failing eyes.
Presser foot selection – A variety of presser feet will expand the machine's repertoire such as allowing you to insert zippers, make buttonholes, create fancy ruffles and much more. If a nice selection of presser feet does not come with the machine, are they available and how much do they cost?
Accessories that come with the machine and those that are an additional cost – Does your machine include all basic, necessary attachments and how do available attachments extend the usefulness of the sewing machine.
Superior feeding system – Look for at least a 6 point feed dog system. More are better. This is how the fabric is fed under the needle. The more points of contact with the fabric, the more control you have and the neater your seam. This is also useful when dealing with multiple layers of fabric, such as quilting, when lining up and matching are utmost important
Adjustable pressure setting – In many machines, this setting is automatic and the presser foot pressure will adjust to the fabric you are sewing on at the time.
Extra high presser foot lift – This will come in handy when sewing or hemming heavy duty fabric or when quilting thick quilts.
Automatic buttonhole maker or system – If you plan to sew garments, this is a must-have feature. Many machines allow you to measure the button and create a perfect-sized buttonhole at the same time – a definite time saver.
Drop feed dogs – Earlier I mentioned the feed dogs control the fabric as it passes under the needle, so why would we want them to drop? This feature is important for free form quilting. If the feed dogs don't drop, is there a cover for them?
Variable speeds – Is there a way to set your sewing speed? I've never received a speeding ticket in my car, but you wouldn't know it from my lead foot on the sewing pedal. If my sewing machine were a car I'd have my license revoked! Speed control is very helpful, especially when working on small, intricate pieces.
Reverse – Can you sew in reverse? This is a fast and easy way to lock in your seem, especially for bigger pieces that don't pivot easily on your machine.
Needle up / Needle down – Can you set your machine to have the needle always land in the needle down position? This is very convenient and helps prevent mistakes when you need to pivot your fabric while making a garment, doll clothes or a quilt.
Weight – how heavy is the machine. Make your back happy and look for a lighter machine if you will be moving it around often.
Does the machine have a carry handle?
Does the machine come with a case or a cover?
Brands
Once you have an idea of the features you must have and those you would like to have, it is time to start looking at specific brands and models. You might want to start by asking friends who sew what they like about their sewing machines. You will also find a great deal of information online in the form of product reviews on sites like ours and on sites like Amazon.
Budget
What is your budget? Is it firm, or is there wiggle room? I've found when I'm faced with a firm budget, I get instant wiggle room by leaving my husband at home while I shop. It works almost every time! Of course, I've never strayed far from my budget and you won't either if you stick to your list of must-have features. Don't pay for bells and whistles you know you will never use. If you will grow into the features within a couple of years, they may be worth the investment now.
Support
How much support will you get from the dealer? You should visit dealers online and in specialty sewing stores. If you opt to purchase from a big box store make sure to check their policy on returning items once they have been removed from the box and used. Some stores have a very lenient return policy, so while you may not get any support for your purchase you will at least not get stuck with a lemon.
If you decide to buy online, check the dealer's website. Is it easy to navigate? Can you find the information you need? Can you easily find out how to contact the dealer? Submit a question or two and see how quickly you get a response. What is their return or repair policy? Are they available by phone and email, or email only?
If you decide to buy from a specialty store, are the people in the shop friendly and helpful? If they aren't helpful when you are making a purchase, do you have confidence they will be helpful when you have a problem with your machine? Do they offer classes and do they carry a full range of supplies for your machine?
Portability
Portability is a more important feature than you might think. Gone are the days when buying a new sewing machine meant buying a piece of furniture as well.  Now, machines come with handles, carry cases and table extensions. Will you have a space set up just for your sewing? If so, a hard cover or case may not be important to you. I never thought I would take my machine out of my house, but then came dance productions in high school and I am one of the costume moms. I've never been so happy to have a carry handle on my machine and a cover that protects it while in transit.
Space and Storage
Space and storage are also important factors to consider when selecting your first sewing machine. How much space do you have in your home to dedicate to sewing? How much space does the machine you are considering take up? Will you be storing it while not in use? Does the machine come with a protective cover or case?
Warranty
How generous is the warranty offered and is it void if the machine is not purchased from an authorized dealer? These are details we often find out after we've opened the box and if the warranty is void based on where you purchased your machine, it may already be too late. The good news is many companies now have copies of their standard warranties posted online.
So…what is the best machine?
The answer to that is going to be based on all the factors we discussed above. There is no shortcut to researching the best sewing machine to buy for a beginner, especially when our needs, future uses and budgets are so varied. Take the time to answer all the questions posed above. Make a comparison chart. You will be glad you did.