If you're looking for a machine that's light and easy to operate yet strong and sturdy enough for those challenging projects; or if you are a novice who wants a machine that's easy to use but don't want to skimp on quality or performance, then take a look at the Magnolia 7318 in the floral line of affordable machines by Janome.
A mechanical machine that's one step down from the Magnolia 7330, the 7318 is perfect for all your sewing projects: from quilting, clothing construction, crafting, home dec. to free motion quilting, darning  and more. And backed by the solid reputation of the Janome name, it's also the perfect machine for the budget-minded sewer.
In This Review:
• Quick Stats for Janome 7318

• Notable Highlights
• Reviewer Feedback
• Video
• Manuals and Warranty
• Janome 7318 Extras
• Products
Quick Stats for Janome Magnolia 7318:
| | |
| --- | --- |
| Price | Free Shipping at Amazon.com |
| Stitching Functions: | 18 Built in decorative and utility stitches including a buttonhole stitch |
| Button Hole Type(s): | 4-Step one style Buttonhole |
| Bobbin Winding System: | Vertical Bobbin Winding |
| Bobbin Type: | Top load drop-in SA156 bobbins |
| Clear Bobbin Cover: | Yes – Easy to determine when bobbin thread is running low |
| Adjustable Tension System: | Yes – Automatic and Adjustable thread tension –  can be adjusted according to sewing materials, layers of fabric and sewing method. |
| Thread Cutter: | Yes – manual thread cutter located underneath the Face Plate |
| Automatic Needle Threader | No |
| Presser Foot Lift: | Extra high foot lift –  raise the foot about 1/4″ (0.6 cm) higher than the normal lift |
| Built-in Accessory Storage: | The standard accessories can be stored in the accessory storage box under the extension table. Draw out the storage box from the table. |
| Carry Handle: | Yes – Retractable Carrying Handle |
| Drop Feed: | Yes – The drop feed lever is located underneath the free-arm bed on the backside of the machine. |
| Quilting: | Yes – Free motion |
| Embroidery: | Yes – Drop feed for free motion and minor decorative stitching |
| Free-Arm: | Yes – Free Arm/Flat Bed Convertible  – Pull the extension table to detach |
| LCD Display: | No |
| Light: | Incandescent Electric Lamp |
| Superior Feeding System: | No – 4-point feed dog box system |
| Snap-on Presser Feet: | Yes – 4 included snap-on presser feet |
| Stitch Length: | Maximum Stitch Length: 4 mm |
| Stitch Width: | Maximum Zigzag Width: 5.0 mm |
| Maximum Speed | 830 spm |
| Reverse button | Yes – The machine will sew in reverse while the lever is pushed |
| Manual | Instruction manual in English, Spanish and French |
| Limited Warranty: | 25 Years for defects, 5 years for electronic parts, 1 year for labor for non-commercial use of machines |
| Cover: | No carry case included |
| Dimensions: | 16″ x 11.7′ x 7″ |
| Weight: | 17.6 lbs |
Notable Highlights and Features
The Janome 7318 is part of The Magnolia Floral Series which offers a line of affordable, multi-featured sewing machines. It is a mechanical machine and is perfect for the sewist who wants to sew a little bit of everything on a machine that doesn't have too many complicated features but is still solidly built to last through many sewing projects.
Because of it's easy-to-operate features, it's perfect for the novice sewer, although it is great for any level of sewing experience. It's also light enough to take to sewing classes but still sturdy enough to sew heavy fabric or many layers of fabric.
STITCH PANEL- 18 Built-in stitches plus a buttonhole stitch

The Magnolia 7318 sews smoothly with precision stitching. What that means for you is perfectly balanced, professional looking stitches. On the convenient stitch panel you can see, at a glance, all the built-in stitches with their corresponding stitch letters. They are classified into a total of 18 built-in stitches plus a 4-step buttonhole stitch.
In the diagram below the set of stitches on top are the utility and decorative stitches and the bottom set are decorative stretch stitches (some stitches may even function as heirloom stitches). The straight stitches (A) count as one stitch in the set of 18. Below the diagram is a description of all the stitches and what you can do with them.
Utility Stitches (top)

Stitch pattern: A – Straight stitch needle center and needle left is for basic sewing. This is also used for sewing in a zipper.
Stitch pattern: C – Basic zigzag – for overcasting, sewing buttons, decorative stitches
Stitch pattern: D – Tricot Stitch (Multiple Zigzag Stitch) This stitch is used to finish a raw edge on fabrics that tend to pucker.
Stitch pattern: E or F – Blind Hemming – This stitch is used to create an almost invisible hem on certain fabrics
Stitch pattern: G – Shell Tucking – Use this stitch to create a delicate edge finish; it can also be used to create an heirloom finish.
Stitch pattern: H – Fagoting- Use this stitch to join two pieces of fabric to create an open work appearance, and add design interest.
Stitch pattern: I – bridging stitch – This stitch is used when butting two pieces of fabric together to eliminate bulk, insert lace or sew over elastic. This can also be used to create an heirloom effect.
Stitch pattern: J – Use this to create decorative satin stitches.
Decorative Stretch Stitches (bottom)

Stitch pattern: A – Straight Stretch Stitch needle left and center- This stitch pattern is sewn with two stitches forward and one stitch backward (called flexi-stitch), forming a seam that does not rip easily.
Stitch pattern: C – Zigzag Stretch Stitch – Use this to sew on stretch fabrics in any area that you might use a zigzag stitch.
Stitch pattern: D – Smocking stitch is used as a decorative feature.
Stitch pattern: E – Arrowhead stitch: This stitch is a small triangular stitch used on a seam to add strength at points of strain.
Stitch pattern G – knit stitch – This stitch is perfect for finishing edges of stretch fabrics: swimwear, stretch velour etc.
Stitch pattern H – double over-edge – This is an excellent stitch for fabrics that tend to fray extensively such as linen and garbadine.
Stitch pattern I: Thorn Stitch – This is an embroidered decorative stitch.
Stitch Pattern Selector dial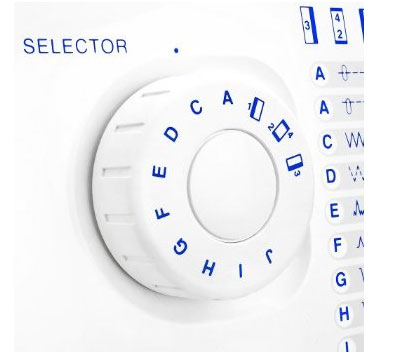 Stitch selection is also very simple via the Stitch Pattern Selector Dial. It is marked with each stitch pattern's corresponding letter. You can easily select a stitch pattern by turning the dial to the desired stitch. To select the stretch stitch patterns, set the stitch length selector dial at S.S.
Stitch Length Selector Dial
You can also adjust the stitch length with the Stitch Length Selector Dial, simply turn the dial to choose the length you want; the higher the number the longer the stitch. To adjust the width use the Stitch Width Selector Dial located on the top of the machine just above the stitch pattern selector dial.
ADDITIONAL FEATURES
*An oversized, conveniently located Reverse Stitch Lever allows you to sew in reverse while the lever is pushed so that you can reinforce or lock your stitches.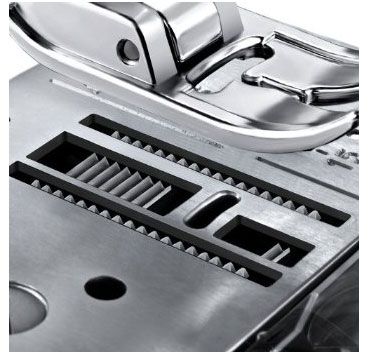 *Drop the feed dogs for free-motion quilting and embroidery, darning and sewing on buttons.
*The needle plate has seam guide markings making it easier to measure for seam allowances. The numbers indicate the distance between center needle position and the seam guide.
*Use the foot control for controlling the sewing speed – the harder you press the faster the sewing machine goes.

*Industrial lift for the presser foot is an extra high lift so you can place thick or bulky fabrics under the presser foot.
*Easy top drop-in bobbin reduces bobbin issues and the see-through cover makes it easy to see how much thread is left.
*Variable needle positions allow you get as close to the seam or edge as you need.

*This is a smooth and solid machine that runs very quiet.

Compare  the Janome Magnolia 7318 to the 7330
Below is a quick comparison chart for the Magnolia 7318 and the Magnolia 7330. Take a quick look and decide if a mechanical machine like the 7318 is a more appropriate choice for your needs or if the features and automation offered by the 7330 is more appealing. First determine the features that are most important to you and with which you are most comfortable working, then choose those features that make sewing your projects easiest and most desirable for you.

| | | |
| --- | --- | --- |
| | Janome Magnolia 7318 | Janome Magnolia 7330 |
| | | |
| Check Price | | |
| Go To Review | Magnolia 7318 Review | Magnolia 7330 Review |
| Machine Type | Mechanical | Computerized |
| # of Stitches | 18 | 30 |
| Max Stitch Length | 4 mm | 5 mm |
| Max Stitch Width | 5 mm | 7 mm |
| LCD Screen | No | Yes |
| Memorized Needle Up/Down | No | Yes |
| Superior Feed | No | Yes – 7 Point  System |
| Built-in Needle Threader | No | Yes |
| Buttonhole type | 1 Style 4-step | 6 Style 1-step |
| # of  Presser Feet | 4 snap-on | 4 Snap on |
| Start/Stop Button | No | Yes |
| Speed Control | No | Yes |
| Extra High Foot Lift | Yes | Yes |
| Drop Feed Dog | Yes | Yes |
| Weight | 17.6 lbs | 18.2 lbs |
| Dimensions | 16" x 11.7" x 7" | 15.3″ x 11″ x 7.8″ |
Reviewer Feedback
Likes
This is a basic, no-frills, mechanical sewing machine, which is precisely what I was looking for. I didn't want a computerized machine with a lot of bells and whistles. I wanted a basic machine that would last for many, many years. This machine has all the basic stitches that I was looking for (as well as a few more). I like four-step buttonholes, so I don't mind that it doesn't have a one-step automatic buttonhole. I really like the drop in bobbin so I can see how much thread is left. This machine is very smooth even at high speeds. It's heavy enough that it doesn't bounce around, but it's light enough to carry easily. I do wish it came with a cover and a few more presser feet, but at the price it would be hard to beat. Great Buy!
joesews from New Albany, IN, Apr 3, 2010
Machine is easy to use and has nice features including two spool holders, easy bobbin insert, removable arm. Stitching is nice and machine in steady. Instruction book is simple to read and easy to understand. two thumbs up for me. Happy customer!
klsummers from California, Apr 5, 2011
LOVE LOVE LOVE this sewing machine! I can't find one thing that I don't like about it! I was looking for a sewing machine with some speed and it has it! Overstock had it shipped out the very next day and was here in no time. I would recommend this machine and Overstock to everyone! In fact…I just ordered a new serger too 🙂
Im In Love wweennddyy Nov 13, 2009
Dislikes
This machine has sewn through everything from towels to quilts! The only drawback is that it doesn't have a cover, so you need a bag or storage place for it when it's not in use.  ….Great machine, but no cover
elis2shoes from Buffalo, NY,  Apr 27, 2010
Bottom Line
Many sewing instructors and enthusiasts recommend the Janome brand. The company has a solid reputation for quality, precision and innovation and the Janome Magnolia 7318 is no exception. As a mechanical machine it offers just enough features for the beginner: 18 built-in utility and decorative stitches, a 4-step buttonhole stitch, easy drop-in bobbin and seam guides on the needle plate. For the more experienced sewer features like the drop feed capability and the industrial presser foot lift come in especially handy and give more options for creativity. The 7318 runs quiet and smooth and has very good ratings. It's perfect for any level of sewing experience and is highly recommended for a first machine.

Rating: 
Video
Manual and Warranty
Manual
WARRANTY:
Janome America, Inc. warrants this Product for a period of twenty-five (25) years from the date of original purchase against defective materials and/or workmanship, five (5) years for electronic component parts, one (1) year for labor within normal household use of the Product. Machines used commercially are warranted for a period of one (1) year.
Janome 7318 Extras
Standard Accessories
Needles
Bobbins
Screwdriver
Lint brush
Seam ripper (buttonhole opener)
Spool holder (large)
Spool holder (small)
Additional spool pin
Felt cushion
4 Included Snap-On Presser Feet
*All Purpose foot A
*Zipper foot E
*Blind hemming stitch foot G
*Sliding buttonhole foot J