Amazing quality for one low price!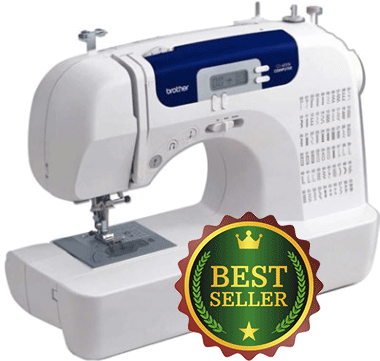 The Brother CS6000i 60-Stitch is a basic computerized sewing machine and for the incredible price it comes loaded with all the features that a beginner or even an advanced sewer could possibly want for sewing clothes, decorative stitching and quilting. Users find the number of stitch choices – 60 in all – fun and incredibly appealing.
Push button control makes this machine really easy to use. With the speed controller you can set the speed from very slow to very fast, with or without the foot pedal, and that is the speed it goes. It also includes accessories for quilting. It runs smooth and is lightweight and quiet. The CS6000i is an amazing quality machine at an affordable price – a definite must-have! 
(Click Ahead!)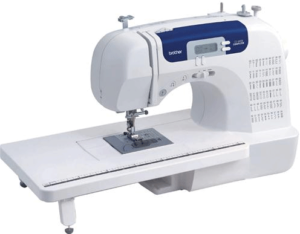 • Quick Stats for Brother CS 6000i
• Notable Highlights/Features
• Reviewer Feedback
• Video
• Manual and Warranty
• Brother CS 6000i Extras
• Products for CS 6000i
________________________________________________________________________
Quick Stats for Brother CS 6000i: (Back To Top)
| | |
| --- | --- |
| Price | Free Shipping at Amazon.com |
| Sewing Stitches | 60 Built-in stitches including  utility, heirloom, decorating and quilting stitches all with multiple stitch functions which means you have the ability to alter them. |
| Adjustable Stitch Length & Width: | Yes – 7mm ( slightly over 1/4 inch), programmable – you can change  stitch length and width for your project needs;  great for  crafts and embellishing clothes |
| Stitch Attributes | Twin-Needle: You can use the same color or two different colors of thread for making decorative stitches. |
| Button Hole Type(s): | 1- Step Automatic Buttonhole maker with 7 styles of buttonholes |
| Bobbin: | Class SA156 bobbins aredesigned for this sewing machine. Using other bobbins may cause damage to the machine. |
| Bobbin Type: | Quick Set, one step drop-in bobbin; start sewing without pulling up the bobbin thread. |
| Bobbin Winding System: | Horizontal Winding System |
| Clear Bobbin Cover: | Yes |
| Adjustable Pressure: | No – The presser foot applies pressure consistently on the fabric as the sewing takes place. Presser Foot pressure is pre-set and not adjustable |
| Upper Thread Tension: | Dial – for perfectly balanced, even stitches on any fabric |
| Built-in Accessory Storage: | Yes – Comes with an accessories bag; Place accessories in bag, store bag in accessory compartment inside the flat bed attachment. |
| Carry Handle: | Yes – Built-in handle for easy portability |
| Drop Feed: | Yes – Drop the feed dogs to create free-form quilting & embroidery patterns |
| Embroidery: | Yes – Free motion embroidery and some decorative stitching |
| Quilting | Yes – Free motion quilting |
| Free-Arm: | Yes – Easily maneuver difficult to sew areas such as armholes and cuffs. |
| LCD Display: | Yes – LCD display for computerized stitch selection. Use buttons to select stitches |
| Light: | Yes – Built-in Dual LED |
| Needle Threader: | Yes – Automatic needle threading system, effortlessly  threads the needle without frustration or eye strain |
| Thread Cutter | Yes – Manual thread cutter: Pass the threads through the thread cutter to cut them |
| Snap-on Presser Feet: | Yes – Snaps on and off – change from one foot to another with ease |
| Thread Delivery: | Horizontal – for better stitches, the ability to use many different sized spools of thread; also helps prevent bunching and tangling |
| Operation Manual & Quick Start Guide | Y – Easy to understand Manual and Guide, great for beginners. Guide demonstrates how to thread the machine and get started sewing. Well-written instructions. |
| Limited Warranty: | 25 Year Limited Warranty – See Warranty Terms page. |
| Hard Cover | Yes – Includes a hard cover case to protect machine when not in use. Not a "carrying case" this is a cover to put over the machine for storage. You may need to remove your spool of thread to get it on |
| Dimensions | 12.5″ H x 9.75″ W x 9.6″ D |
| Weight | 13 lbs |
Notable Highlights/Features: (Back To Top)
Sewing is an age-old skill that lots of people love. I, for one, derive a great deal of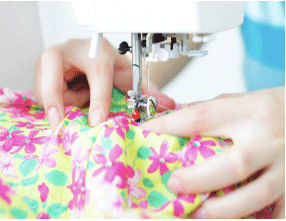 satisfaction out of using my sewing skills to create something that I can be proud of: proud to display and proud to give away. I love to look around for inspiration to stir up some creativity so that I can put my own mark on the things that I sew. Many people feel the same way; they have taken an interest in jumping on the sewing band wagon to create something that says "this is me!" and our sewing machine side-kick comes along on every adventure – and what a team we are, or will be if you don't own one yet…
If  you're looking for that reliable sidekick of a machine to get you started, or to replace the old stand-by, or to take along with you on your next sewing excursion then you might want to take a serious look at the Brother CS6000i computerized sewing machine with 60 built-in stitches. The CS6000i has become one of the most popular sewing machines on the market today. If you check online you will find hundreds of reviews for the CS6000i, great, overall reviews from users who love it, both beginners and experienced sewers. What's so special about this machine? What makes it so appealing? Well, many of the things that you look for in a sewing machine:
Simplicity – it's incredibly user friendly and intuitive, just so easy to use that you can start sewing right out of the box, or use it to teach a child.
Features – it comes with an incredible amount of features for a basic sewing machine – 60 stitch choices, speed control, easy operation keys, quilting – features that a beginner can appreciate and also grow into and a more experienced sewer finds useful.
All at a low price – go figure – If money's tight (and who's not feeling the pinch these days), or you're just learning to sew and want to test the waters to see if sewing is really a good creative outlet for you, and don't want to spend a lot to find out – then this is a great deal for you (Check today's price).
So lets see…
OPERATION PANEL
60-Stitch Panel Display – Utility * Decorative * Heirloom * Quilting
One factor that makes this machine so appealing is its simplicity – it's intuitive and very easy to use. You can set it up and get sewing without a lot of fuss. If you sit right down in front of it, one of the first things that you'll notice is that all the stitch patterns are conveniently displayed on the front panel, and it's easy to see from the stitch panel that the CS 6000i  comes with a good selection of stitch patterns  – 60 in all with their assigned numbers. There are utility stitches for basic sewing, clothing construction and mending; heirloom stitches if you want to give your project a delicate, hand-sewn look; decorative stitches for adding a little pizzazz to just about anything. There are also stitches that are perfect for quilting.  Many of the stitches have multiple stitch functions. What's that mean for you? By changing the length and width settings you can change the stitches slightly – that translates into even more variety!
Also included are 7 styles of 1-step button holes. That's a great selection of choices for any project you can dream up!
LCD Screen with Operation Keys
Another thing you'll notice is the operation panel consisting of the LCD screen and stitch selection keys. The LCD screen and operation keys allow you to select a stitch, display it and specify how it will be sewn. It's so easy, just push the appropriate key until you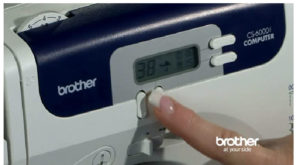 reach the number corresponding to your selected stitch on the stitch display. The screen will display the stitch pattern you choose, the presser foot to use with that stitch and the width and length settings.

If you make an error while setting up a stitch, an error message will display on the screen and prevent a mistake in your sewing project. It's like having a personal sewing guide.
OPERATION BUTTONS
The operation buttons provide automation for certain features and help you to easily perform various basic sewing machine functions.

Sewing Speed Controller
The sliding speed control allows you to change the sewing speed so that you can go as fast or slow as you like with or without using the foot pedal.This is a great feature for nervous beginners or children, or someone working on some intricate detail and just wants to take it slow.

There are 3 speeds available: slow , medium and fast. Choose your most comfortable sewing speed; the speed that you set using the speed controller is the foot pedal's maximum sewing speed.

Stop / Start Button
You can actually sew without using the foot pedal if you prefer. The 1-touch Start/Stop as well as the Reverse Operation features allow you to sew without using the included foot pedal, giving you easy machine operation. Although some people prefer the control that the foot pedal gives you because you don't have to take your hands of your project to stop sewing, others absolutely love the Stop/Start feature, finding it very convenient, and actually have yet to use the pedal for any of their projects.
Since the cs6000i is very user-friendly, it's a great machine for kids to learn on and the Stop / Start feature is great for little feet that can't quite reach the foot pedal. And if you read many reviews for sewing machines you will find that there have been circumstances in which, due to certain disabilities, some people are actually incapable of using the foot control. These are instances when a Stop/Start feature is very useful. Stop / Start feature is especially handy for those sewing projects that require long continuous stretches of sewing, such as with drapes, side seams on a pant leg or a long dress, ask me how I know…!

TIP: When the foot controller is plugged in, the start/stop button cannot be used to start or stop sewing. When sewing is stopped, the needle remains lowered in the fabric.
ADDITIONAL FEATURES
These additional features make sewing a breeze:
Bonus Accessories – For the quilter in you it comes with several accessories for quilting.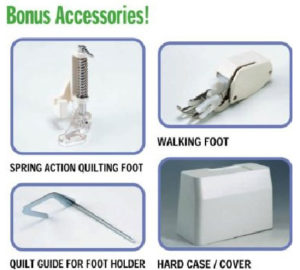 Spring Action Quilting Foot – For darning and free motion quilting and embroidery

Walking Foot – This is essentially a presser foot with its own set of feed dogs on the bottom for easy, accurate stitching of slippery fabric or multiple layers
Quilt Guide – For quilting projects that require precise, evenly-spaced quilting lines
Hard Cover – This is not a carry case, but a hard cover to place over and protect machine when not being used
Extension table – The CS6000i comes with a large over-sized table that is perfect for quilting and large sewing projects.

Needle Threader – The automatic needle threader makes threading the needle  a snap, with a little practice it's quick and easy. Certain situations require that you skip the auto needle-threader and thread the needle manually (but it's nice to know it's there if you need it). Check manual for details.
The needle threader can only be used with home sewing machine needles size 75/11-100/16
Bobbin winding System – Wind the bobbin quickly using the bobbin winding system –fast and easy
Quick-Set™ Bobbin – Inserting the bobbin is very easy. The bobbin drops in. Then you can start sewing without pulling up the bobbin thread because of the Quick-Set™ Bobbin drop in system. – Easy! Also the clear bobbin cover allows you to determine when you are sunning low so you won't have to stop sewing in the middle of a project to replace the bobbin thread – I love this feature!
Video (Back To Top)
In the video below you will see why the CS6000i is one of the most popular basic computerized sewing machines selling today. It includes features found in many Brother sewing machines that make sewing easier to learn and projects easier to complete. Check it out below:
…and how about a quick run-through video as well:

Reviewer Feedback:
(Back To Top)
LIKES:

If you are looking for a good machine to quilt, this machine has all the features you will need, and it's priced so you can actually afford it. I love the fact that it comes with a quilting table and a case….

It appealed to me because of the assortment of decorative stitching; it has more stitches than you could ever want and comes with a lot of additional presser feet and accessories…

A child could easily learn on this machine; very intuitive to learn. Sews quickly and flawlessly, and is super easy to learn…

I really like how easy it is to thread and program in the stitch that you want to use. This is a great machine for a beginner and the manual is great at explaining what each stitch is used for…
DISLIKES:
For a machine that is geared towards quilting it does NOT come with a 1/4 inch foot which is pretty much essential.
One thing it should have is a last recall memory button. Every time you turn it off, it resets the stitch function…. very annoying. Write down what stitch and the setting you are using because if you shut your machine it defaults to the 00 stitch function.
BOTTOM LINE:
The Brother CS6000I 60-Stitch is a very solid, inexpensive machine with a high user rating. It includes an easy-to-follow DVD and an adequate amount of stitch functions that can be useful to both the inexperienced and experienced sewer alike.


Manual and Warranty: (Back To Top)
Click on Images to Download Guides:
Study the manual for the correct operation of the various functions of your machine.
The Quick Start Guide is a 2-page visual guide showing you how to prepare the (1) bobbin thread and (2) upper threading as well. Print it out and keep it close to your machine for a quick handy reference.
After you have finished reading the manual and guide, store them where they can be quickly accessed for future reference.
Manuals
Warranty
25 years for head parts such as shafts, connecting rods, except needles, light bulbs, belts, pulleys, motor, and replacement labor; 2 years for electronic pattern control and selection components; 1 year for parts and labor
Brother CS 6000i Extras (Back To Top)
A number of quilting and sewing accessories  are included, including a total of 9 presser feet for sewing, quilting and light embroidery:
Sewing Accessories
Hard Cover Case
Seam ripper
Bobbins
Needle set
Twin needle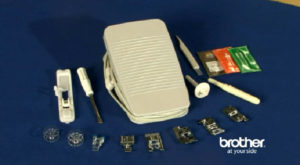 Foot controller
Cleaning brush
Screwdriver
Extra spool pin
 Power cord
Manual
Wide Table
Quilt guide
3 needles
3 bobbins
9 Included Presser Feet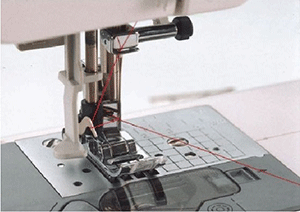 Buttonhole
Over-casting
Monogramming
Zipper
Zigzag
Blind stitch
Button fitting
Walking foot
Spring Action Quilting Foot
Manufacturer's note: Accessories are housed in free arm of machine.
Products for CS 6000i (Back To Top)
You may be interested in some of the products below. Click links or images to view details and pricing: