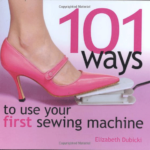 If you are a budding sewing enthusiast buying your first sewing machine doesn't have to be a daunting task. If you do a little research and keep in mind "stick to the basics" you should be able to find a sewing machine that is perfect for your needs.
Here are 5 very basic TIPS that should help you get off to a fast start:
1. First of all, stick to the basics. Too many fancy stitching options can overwhelm a beginner. You can upgrade later as your sewing skills improve.
2. Research popular brands and models. Visit dealers and fabric stores both online and offline, or ask people you know who love to sew about their preferences.
3. Consider how much you can afford to spend. Sewing machines can run you as low as $50 to thousands of dollars for the cutting edge computerized models. But remember: stick to the basics.
4. If you have the opportunity, take a sewing class, that way you can get help, ask questions and talk to other people about their sewing machines and experiences.
5. Finally, consider your designated sewing area.  If you have limited space you will need to store your machine and pull it out as you need it.