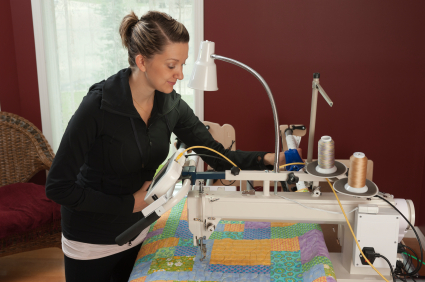 Shopping for a sewing machine for machine quilting opens up a whole new world of sophisticated functions and features. The process, however, is the same as when buying your first sewing machine. You are simply placing more importance on different features. You will be impressed with the wide variety of features and price tags. As in buying a basic machine, there is enough variety to meet almost any quilter's needs.
With all the sophisticated machines from which to choose, how do you make sure you are picking the perfect sewing machine for quilting and getting a good value? The key to selecting the right sewing machine for basic sewing and machine quilting is to make a list of must-have features. Compare machines based on these features. If a feature, function or attachment is essential for quilting, don't buy a machine without it.
Experienced quilters who are looking for a professional, dedicated quilting machine will be looking for different features than the quilter who still wants full functionality for sewing garments.
Features
Adjustable stitch length and width
One size does not fit all when it comes to stitch length. Not only should you be able to change stitch length, but you should be able to do so easily. For those interested in garment sewing, you should also be able to change stitch width easily. Those quilters looking for a straight stitch machine will only be interested in adjusting stitch length. Having the ability to change stitch width and length gives you more flexabilty in your sewing:  basting, reinforcing, decorative etc.
Easy bobbin winding
Bobbins are small and don't hold enough thread to complete a large project. Chances are you will need to change or reload a bobbin in the middle of your project. Being able to quickly and easily wind the bobbin with fresh thread will keep your project moving right along. Another tip to keeping your project moving is to have spare bobbins loaded with thread and ready to drop in. Many high end machines  like the Janome 6300 Professional Sewing and Quilting machine use a separate motor for bobbin winding making it easy to wind fresh bobbins while you continue quilting.
The Janome Memory Craft 6300P Heavy Duty Professional Quilting Sewing Machine is an amazing value for the features and functions offered. The separate bobbin winding motor allows you to keep your quilting project moving along. The extra long sewing bed and fast stitch-per-minute speeds are perfect for the home quilter and professional seamstress alike. Click here for today's current deal!
Easy to change presser feet and needles
There isn't a lot of space for two hands to fumble around changing presser feet and needles. It can be very awkward, hunching down trying to see what you're doing. Gone are the days of using little screwdrivers to unscrew the presser foot, grab another presser foot, screw it back on and so on. The easier this job is, the better. . That's one good reason why snap-on presser feet are so handy.
Feed dogs that lower for free-form quilting
Quilting is more than just straight lines. Many designs have tight curves and curls or free-form scribbles  called stippling. Feed dogs will prevent you from moving the fabric in a flowing pattern, so for free-form quilting they must either be lowered or covered.
Sew in reverse
Whether you are locking in a seam or creating an intricate top stitched design, being able to sew in reverse at the push of a button is essential, especially for large projects. Imagine having to turn a large project on your sewing table, shoving large amounts of fabric through the opening in the machine simply so you can sew in another direction. One-touch reverse is absolutely critical for quilting on a sewing machine.
Straight and zigzag stitches
Most sewing machines come with at least a few decorative stitches, so finding one without a zigzag stitch will not be easy. Zigzag stitches are used for buttonholes and as a border stitch around appliques. While not an essential stitch for quilting, it is essential for basic sewing projects.
Adjustable presser foot pressure
This is important for handling heavy fabrics and when sewing through multiple layers of fabric and batting.  You can read more about that by clicking here.
The Brother CS6000i is another dependable sewing machine
from Brother and at under $200 is very affordable. and also extremely popular. It has all the basic features required to sew garments and comes with a table extension for your quilting projects. If your professional quilting machine is taking up your sewing area, this machine offers lightweight portability for your other sewing needs. Click here for today's current deal!
Large Throat Area
This is the area on your sewing machine where you do all your sewing.  It is very important when working on large projects or quilts.
Additional Features
After verifying that each machine you are comparing has all of the basic features, make a list of all the little extras offered with each sewing machine. Some features will have more value to you than others. Some may be worth a higher price, but don't buy a machine simply because it has a long list of features. It is far more important for the sewing machine to do the basic things required for machine quilting, and do them very well.

Additional features that are important for quilting:
Spring Action Quilting Foot – For darning and free motion quilting and embroidery
Walking Foot – This is essentially a presser foot with its own set of feed dogs on the bottom for easy, accurate stitching of slippery fabric or multiple layers
Quilt Guide – For quilting projects that require precise, evenly-spaced quilting lines
¼ inch foot – for sewing quarter inch seams when quilting
There are a few features that are nice to have, but not essential:
Clear bobbin case cover – It is always nice to know when you are about to run out of bobbin thread so you can prepare for it instead of having the machine jolt or continue sewing worthless stitches.
Automatic needle threading – For many, this is an essential feature. A sewing machine needle isn't at eye level and threading one can be difficult. Whether you are changing thread colors, putting in a fresh spool or your thread breaks mid-stitch, being able to quickly and easily thread the needle will keep you sewing with fewer hassles.
Setting for needle to end in down position – This is another feature that seems so simple and yet saves so many headaches. Have you ever lifted the presser foot to turn your fabric without remembering to lower your needle? You wind up with loose threads and a messy seam. Being able to set the machine to stop with the needle in the down position will save you a lot of frustration whether sewing a garment or quilting a throw.
Variable sewing speeds – Not every sewing job requires a speed-of-light stitching pace. It is especially helpful to set the machine to a lower speed when you are working on intricate stitches or patterns. This prevents you from accidentally putting a heavy foot on the pedal control.
If affordability is key, one option is the Brother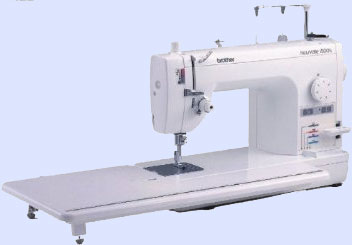 PQ1500S high speed quilting machine. It is a great option for fast straight stitching for quilting and other large-scale projects. It includes most features on the list above with four feed dog settings and a pin feed for delicate fabrics. Click here for today's current deal!
Selecting a Brand
Most buyers looking for a machine for quilting are not new to selecting a sewing machine. It may have been a while, though, since you bought your last machine and a lot has changed. Brands once known for building reliable machines may have been sold. Don't take brand reputation for granted. Ask around. You might want to start by asking friends who sew what they like about their sewing machines. Find a local quilting circle or support group and ask the members. We might not walk around with signs on our backs saying, "Ask me about my sewing machine," but most of us love to talk about our sewing machines. You will also find a great deal of information online in the form of  product reviews on sites like ours and on sites like Amazon.com.

Budget
What is your budget? Is it firm, or is there wiggle room? I mentioned in another post that I find instant wiggle room by leaving my husband at home while I shop. It's true, but when buying a basic machine you can typically measure price differences in tens or hundreds. When buying a quilting machine price differences are often measured in thousands. That's not wiggle room.
You will be able to stay in budget if you stick to your list of must-have features. Don't get distracted by wonderfully magical features you know you will never use. If you think you will grow into the features within a couple of years, they may be worth the investment now.
Support
How much support will you get from the dealer? You should visit dealers online and in specialty sewing stores. If you decide to buy online, check the dealer's website. Is it easy to navigate? Can you find the information you need? Can you easily find out how to contact the dealer? Submit a question or two and see how quickly you get a response. What is their return or repair policy? Are they available by phone and email, or email only?
If you decide to buy from a specialty store, are the people in the shop friendly and helpful? If they aren't helpful when you are making a purchase, do you have confidence they will be helpful when you have a problem with your machine? Do they offer classes and do they have a full range of supplies for your machine?
Get ready to have your socks knocked off. The highly rated Janome Memory Craft 6500P will satisfy the pickiest quilter. It sews at blazing speed and has advanced automated functions that assure your project will be finished quickly and with professional attention to detail. Click here for today's current deal!
Portability
Portability is not as important for those looking for a dedicated, professional quilting machine as it is to those searching for a sophisticated sewing machine that also quilts. If you will be moving your machine frequently, look for a built-in carry handle or a protective case that has a handle.
Warranty
Many household appliances or personal electronics are now built with disposability in mind and we are being conditioned to think if it cost less than a certain amount, it will be too expensive to repair. Anyone who has dropped their video camera knows what I'm talking about.
Sewing machines are different. There are still dealers and tradesmen who service and repair sewing machines, extending their life far longer than the typical household appliance. It is important to understand your warranty.
How generous is the warranty offered and is it void if the machine is not purchased from an authorized dealer? These are details we often find out after we've opened the box and if the warranty is void based on where you purchased your machine, it may already be too late. The good news is many companies now have copies of their standard warranties posted online.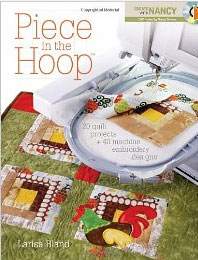 Space
There is one more detail you must consider prior to making your purchase. Space. How much space in your home is available to dedicate to your sewing? Will you be able to set the machine up and leave it up? If not, it will be important to think about how much the machine weighs, whether it has a handle and whether it comes with a protective cover.
If you will be setting up and taking down your sewing machine each time you use it, look for a machine that is on the lighter side. Don't give up stability. A quick look at product reviews will give you an idea about whether the machine sews like a lightweight or a workhorse. Your back will thank you for buying a machine that doesn't weigh a lot.
Two other features that are essential if you will need to move your machine frequently are a carry handle and a hard protective cover. A soft cover is fine for protecting a machine from dust, but a hard cover is important for protecting a machine while it is stored or carried. The handle on my machine is on the machine itself and not a protective carrying case. I prefer this since I don't always move the machine with the cover on.
One machine that offers a great option for the home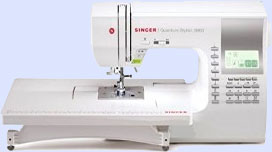 seamstress is the Singer 9960 Quantum Stylist. It is a very affordable machine with 600 built-in stitches, 13 different automatic buttonhole styles and five different fonts. It is a free arm machine that comes with an extension table. Add this machine to your list of possibilities. Click here for today's current deal!
Ready to Shop?
Are you ready to start shopping for just the right sewing machine for your machine quilting? Here at The Sewing Machine Lady we have product reviews that will give you a good start on your comparison shopping. This is potentially a major investment. Study reviews, ask friends, talk with dealers, try out machines, take a class. Then, go ahead and take your next step into an amazingly creative and rewarding pastime. Enjoy!